3D Asset Workflow: Concepting
◇ General Tips and Troubleshooting
Summary
Concepts aren't marketing art per se - it's enough to just communicate the idea
The general goal of concepting a 3D asset first is to make sure that the assets are as usable and efficient to the level artists as possible
Concepting a 3D asset is an umbrella term for:
Sketching a concept in 2D
Photobashing
Making a base mesh, i.e. blocking the asset roughly in 3D
Concepting Workflow Steps
First and Foremost
Research
If there aren't any existing plans or concepts for the asset, discuss with the AD and the level artists about what is wanted

Research any materials related to the asset
If there are existing concepts, use them as a starting point

Look through the level's wiki page to get a good idea of the context where the asset will be used

Pay attention to the the general shape language of the level

Are the forms curvy, straight, round, sharp, angular, thick, thin, horizontal, vertical?
How are the decorative details on different concepts, if there are any?

If there is an actual level already created, or assets that are made for that same level, check them

You can also try to see if there are already similar assets that you might have planned to make for your asset set, to make sure you're not making 1:1 duplicates of them

This can be done e.g. in the Editor by searching some general asset name from the TypeTree

Think about the story of the asset

Is it old or young/new, what is the nature of it, the environment it will be used in etc?
What's the history of the asset, how does all this affect to the look of the asset?

Search for reference images online

Analyze the reference images, combine ideas, and come up with a general idea for the asset
Pick images that have any nice usable ideas that you like - they don't have to be perfect and often aren't. That's where the concept art steps in!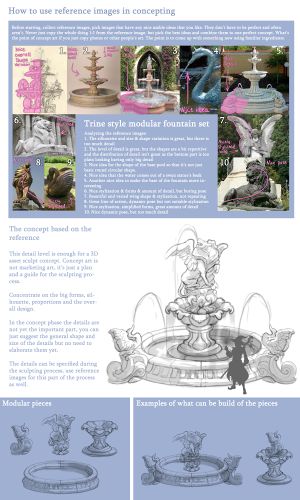 Make the concept
Use the best ideas from the possible existing concepts, your reference images, and your imagination - never copy stuff 1:1 from existing reference images
3D asset concept art is not marketing art, so don't use time to polish it unnecessarily

It's just to share the idea of the asset with the AD, before using a lot of time to make the final asset

Concentrate on the big forms, silhouette, proportions and the overall design
Keep the detail level and distribution in balance - have small, medium, and large detail

The details can be further specified during the sculpting process (use reference images for this part of the process as well)

Think about the colors of the asset - remember the importance of the values

If it's hard to read in true black & white, it'll be hard to read in color as well
A good concept will make sculpting and texturing easier, and also lets the AD and the team know what you are up to

You can ask for opinions and feedback at any point, but at the very latest before you start working on the final sculpt
Concepting Examples
Below in the collapsibles there are a few concepting examples for reference
Concepting Example: Modular Fountain Set Concept Process
How to use reference images in concepting
PHOTO:Multiple Sources
Concepting Example 2: Modular Tree Set Concept Process
Planning the separate Assets
A good way to start planning an asset is to collect all the info you have first, and then start concepting. The more complicated and big the asset task is, the more preparations are needed in the planning phase

First you can just concept different things you think would be useful
Once you think you have everything down, you can check if some of the stuff could be recycled between your different models to save time
There is no point in having different models for something that would work as well with just one model in every situation needed, so only make variations that are different enough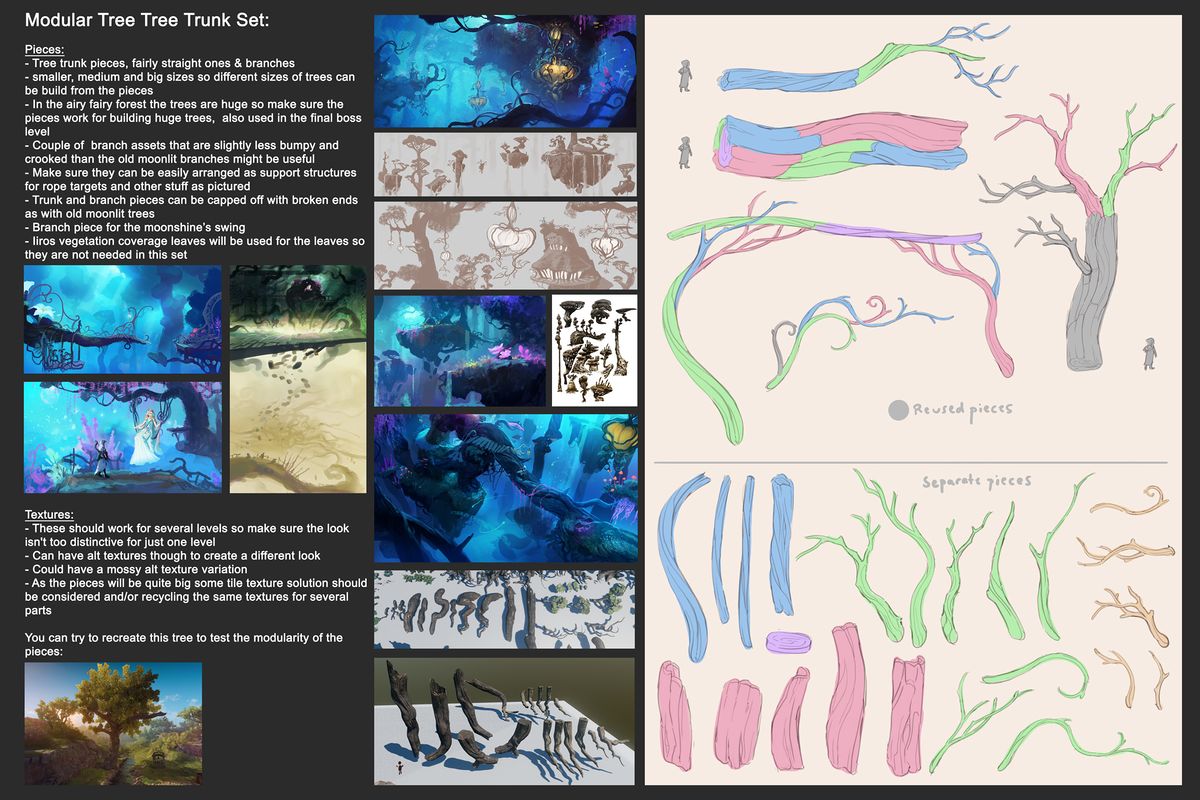 Making Quick Rough Models for Testing Before Finalizing the Assets
Sometimes it can be hard for the level artists to say if some assets will be useful or not, and how they could be improved based on only the 2D concept image

For complicated sets it's a very effective method to first make the planned pieces very quickly and roughly and let the level artists test them
Testing the assets before finalizing them can be a life saver, as some assets might end up being totally useless

Here is an example of super rough models that were first made, but decided not to be used as level artists noticed it would be better to have whole tree trunk pieces instead of these smaller pieces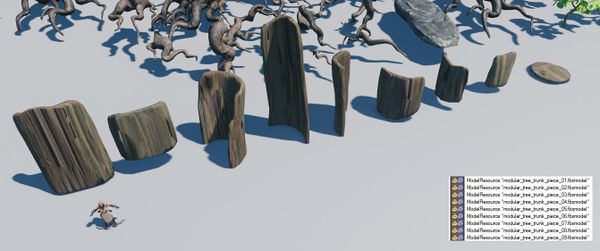 After level artists' feedback the pieces were scrapped and new ones created, not much time was lost as the pieces were done very quickly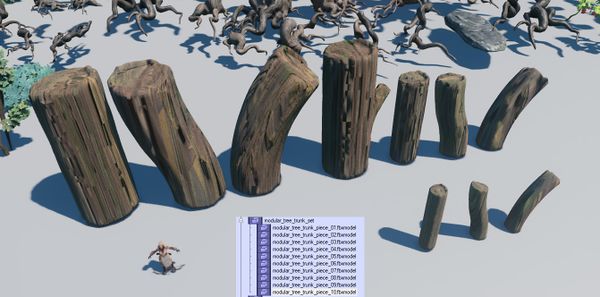 Once these were tested and confirmed working the finalized detailed assets could be made

Also similar test models of the branches were added for the same purpose
Here are the test pieces and how the level artist tested them
These ended up being the final pieces needed for the set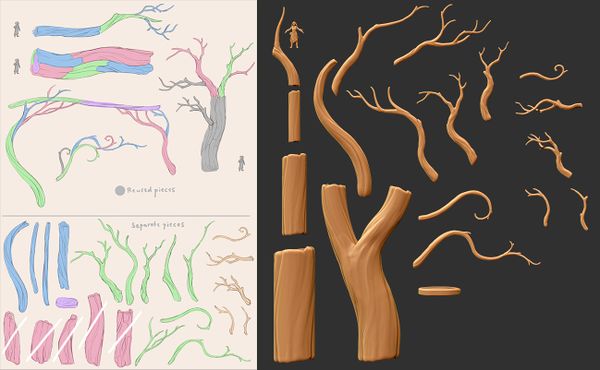 Frozenbyte concept art examples
These are all concepts made by the 3D artists who also created the final game model so it's up to each artist how far they feel like they want to design in the concept phase
Sources
[PHOTO: How to use reference images in concepting.jpg] - Source list :

Img. 1. [(311) Pinterest] https://fi.pinterest.com/pin/557883472571184162/ (accessed June 5, 2018)

Img. 2. [Garda Three Tier Pond Fountain] https://www.outdoorartpros.com/collections/tiered-outdoor-fountains/products/garda-three-tier-pond-fountain (accessed June 6, 2018)
Img. 3. [Water Fountains, Front Yard and Backyard Designs] http://www.lushome.com/water-fountains-front-yard-backyard-designs/52334 (accessed June 6, 2018)
Img. 4. [Bronze Fountain Statuary] http://www.specialtyfountains.com/bronze_fountains.html (accessed June 6, 2018)
Img. 5. [FONTAINES POUR JARDIN ROMANA – FFBarbecues] https://www.ffbarbecues.com/produit/fontaines-pour-jardin-romana/ (accessed June 6, 2018)
Img. 6. [Nyc Public Library Photo, Stock Photo of NYC Public Library, Phillip Colla Natural History Photography] http://www.oceanlight.com/spotlight.php?img=11155 (accessed June 5, 2018)
Img. 7. [Robed angel looking down | Monceau | Flickr] https://www.flickr.com/photos/monceau/6291672868 (accessed June 6, 2018)
Img. 8. [Giant lion sculpture] http://www.chinadaily.com.cn/china/2007-05/08/content_868100.htm (accessed June 6, 2018)
Img. 9. [(NO NAME)] no website (accessed June 5, 2018)
Img. 10. [Palermo e dintorni ma anche...: maggio 2009] http://palermodintorni.blogspot.com/2009/05/ (accessed June 6, 2018)